What Is Tummy Time And Why Is It Important?
As you may or may not know, "tummy time" (i.e. safely placing infants on their tummies for specified periods of time) is vitally important for enhancing children's development and preventing early motor delays.
Many parents, however, are understandably hesitant to place their babies on their tummies after The American Academy of Pediatrics linked "tummy sleeping" to sudden infant death syndrome (SIDS) in 1992, and therefore, recommended that babies be put on their backs to sleep.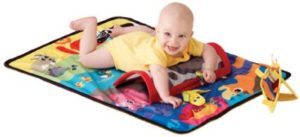 And while the incidence of SIDS has declined by more than 50%, lack of tummy time has created several new health challenges for babies under one-year-old. These include increases in back-of-the-skull flat spots, plagiocephaly (asymmetrical distortion on one side of the skull), and torticollis (abnormal, asymmetrical head or neck position).
Additionally, babies who continually lay on their backs have fewer opportunities to work on their necks, backs and upper extremities and develop their sensory systems. This can cause delays in babies' basic motor development skills such as when they lift their heads, turn over, sit up, crawl, walk, and improve self-regulation as well as more complex motor movements.
This class is designed to provide you with the information and skills you need to enhance your child's development and prevent early motor delays. During the class, Chelsea will:
Answer your questions and help alleviate any concerns you may have
Provide you with invaluable health-related information about the importance of tummy time
Demonstrate safe and effective tummy-time positioning
Class Details

Location:

Homes, Schools, Daycare Centers

For:

Parents/Caregivers of Newborn to 24-Month-Old Children
(maximum of two caregivers per child)

Cost:

$40/Child (cash or checks made payable to: (Chelsea Guerra)

Class Size:

4-5 Children Max.

Class times are flexible. If you have questions, would like more information or you're ready to schedule a class for your child or a group of children, please call (980.949.0390) or email Chelsea directly using our secure online form.